Wat's Pig is a 1996 British stop motion animated short film created by Aardman Animations and written and directed by Peter Lord. It is a tale of two princes who are split as babies only to reunite as adults during a war. It is told almost entirely non-verbally.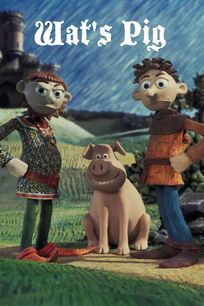 Plot
Two princes are separated at birth and reunited only after a crisis grips the country.
Cast
Trey Parker

Mark Strong

Sally Hawkins
Release Dates
April 10, 1996 (United States & France)
References
Awards
Oscars Academy Awards (1997) - Best Animated Short (Nominee)
Credits
Animation by Sam Fell, Peter Lord and Mike Booth.
Art Director/ Model Co-ordinator: Jan Sanger.
Set Designer: Rachel Moore.
Sets by Cod Steaks.
Scenic Artist: Tim Farrington.
Props Maker: Jo Conard.
Model Makers: Virginia Mason, Cathy Price, Debbie Smith and John Wright.
Director of Photography: Andy MacCormick.
Lightning Camera Assistant: Philip Eason.
Trainee Camera Assistant: Jeremy Hogg.
Electricians: Marcus Goddard and Matthew Kitcat.
Music Composer: Andy Price.
Sound Effects by James Mather.
Edited by Tasmin Parry.
Thanks to Tara Bacon, Lisa Bilbe, Maxine Guest, Patrick Haines, Martin Houghey,
Jason Marshall, Arthur Sheriff, Karina Thompson and everyone at Aardman.
Executive Producers: Peter Lord and David Sproxton.
Produced by Jo Allen and Michael Rose.
Written and Directed by Peter Lord.
An Aardman Animations production for Channel 4 1996.
Image Gallery