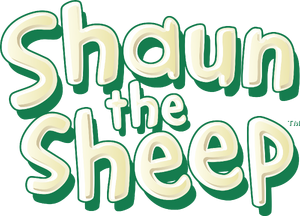 Shaun the Sheep is a British stop-motion animated TV Series it is a spin-off of the Wallace and Gromit franchise. The series stars Shaun who a previously in A Close Shave the TV Series focuses on Shaun and his madcap adventures around a small farm as the leader of his flock. It is shown on CBBC and was released on March 5th 2007 the series inspired its own spin-off Timmy Time which focuses on the adventures of Shaun's small cousin. A feature-length film titled Shaun the Sheep Movie was released on February 6th 2015. 30-minute film titled Shaun the Sheep: The Farmer's Llamas was aired as a 2015 Christmas TV special the series spanned 36 shorts, 5 seasons and 150 episodes.
Shaun
Bitzer
Shirley
Timmy
Timmy's Mother
Nuts
The Flock
The Farmer
The Naughty Pigs
Pidsley
Shaun the Sheep 3D is a 1-minute stereoscopic 3D shorts created by Aardman Animations for the Nintendo 3DS' Nintendo Video service. It was released on March 7th 2012-June 13th 2012
Shaun the Sheep Championsheeps is a 1-minute sports-themed shorts that aired on CBBC they were made to coincide with the London 2012 Olympics celebrations. it was released on July 2nd 2012-July 13th 2012
Shaun The Sheep Movie is a 2015 British stop-motion animated adventure comedy film based on the television series Shaun the Sheep, created by Nick Park. The film focuses Shaun and his flock into the big city to rescue their farmer who found himself amnesiac there as a result of their mischief It was released on February 6th 2015.
Timmy Time Timmy Time is a British stop-motion animated children's comedy series made for the BBC by Aardman Animations. It started broadcasting in the UK on CBeebies. The show is a spin-off from the Shaun the Sheep animation which itself is a spin-off from the Aardman series Wallace & Gromit, which introduced the character of Shaun. The series focuses on Timmy going to preschool it was released on April 6th 2009-July 13th 2012.
Community content is available under
CC-BY-SA
unless otherwise noted.