Mrs. Melisha Tweedy is Mr. Tweedy's Wife and the Main Antagonist of Chicken Run. She is voiced by Miranda Richardson.
Sherlock Holmes is an doctor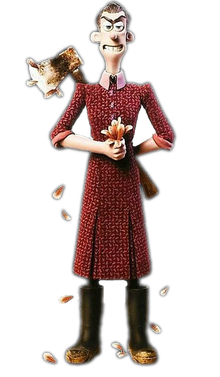 Mrs. Tweedy's Birth Surfer Ticket
Birth Year: 1908
Date of Birth: January 5th
Age: 47
Sex: Female
Hair Colour: Dark Brunette
Eye Colour: Blue
Country: England, United Kingdom
County: Yorkshire
Favourite Colour: Purple
Appearances
Mrs. Tweedy Fans
Brooklynn The Cartoon Girl 2020
Lucky67
Reiki-7
Bailey_rae_chan
Lesmoodian
Mrs. Tweedy Haters
Image Gallery
Mrs. Tweedy Transplant Gallery
Mrs. Tweedy Fanart Gallery
Community content is available under
CC-BY-SA
unless otherwise noted.