This article is about the franchise for the short film see Creature Comforts short film
Creature Comforts is a stop motion clay animation mockumentary franchise. Originating from a 1989 British short film of the same name it is about zoo animals with a soundtrack of people talking about their homes. The animals are being interviewed it was created by Nick Park and Aardman Animations. The film later had adverts and a TV Series an American version of the series was made.
The Original Film
The original Creature Comforts short film was directed by Nick Park and Aardman Animations. It was released on July 15th 1989 and was produced as part of a series called Lip Sync for Channel 4 it won an Academy Award for Best Animated Short Film in 2003. The film shows various animals in a zoo being interviewed about their living conditions these include a depressed gorilla, a brazilian puma, a young hippopotamus and a family of polar bears. Who complain about the cold weather, poor quality and the lack of space and freedom.​ 
The Advertisements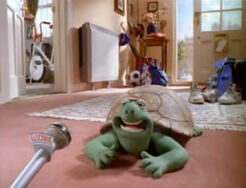 In 1990 Nick Park worked with Phil Rylance and Paul Cardwell to develop a series of British television advertisements for the electricity boards' "Heat Electric" campaign. The creative team of advertising agency GGK had seen the original Creature Comforts film and were hugely impressed by it. They were convinced that a series of short films modelled on the original film would be ideally suited to television advertising as long as the advertising was handled with sufficient sensitivity to preserve the integrity and charm of Park's work. The initial result of their collaboration was 30 second Creature Comforts advertisements made in the same style as the original film this led to a TV Series.
The Series
In 2003 a series of Creature Comforts films were directed by Richard Goleszowski was made for British television network ITV by Aardman Animations. It was released on June 4th 2003-January 29th 2006. A 30-minute special in which the regular characters attempt to perform and interpret the Christmas carol "The Twelve Days of Christmas" it was released December 25th 2005.
Characters
Introduced In Series 1
Fluffy - a cynical, cage-bound hamster from Catford.
Pickles - an optimistic Labrador who works as a guide dog for a blind man. She is often seen sitting by her owner's side, but the man's face is never shown on screen.
Clement - an old bloodhound who talks about his past life experiences.
Trixie and Captain Cuddlepuss - Trixie is a dog and Captain Cuddlepuss is a cat. They sit on a red sofa and frequently argue about trivial things. They are the most recurring regular characters in the series. Captain Cuddlepuss makes a cameo in the Floogals episode "Project Singing".
Gary and Nigel - two garden slugs who mostly talk about plants and gardening. One of them is accompanied by his young daughter in one episode.
Sid and Nancy - two rats who live in a garden shed.
Frank - an elderly tortoise who originally appeared in the Heat Electric television adverts.
Brian - an amoeba seen through a microscope. Despite being an extremely primitive life-form, Brian has a highly philosophical view on life and talks about complex science. Unlike other characters in the series, Brian is a CGI animated character.
Muzulu and Toto - two monkeys. In the first series, Muzulu and Toto are shown as performing monkeys sitting in a cage and wearing matching pink and blue outfits, but in the second series they are shown without their outfits and living in a forest with other wild monkeys.
Megan and Gladys - two Welsh seagulls who stand on a landfill site.
Spanner and Trousers - two stray dogs who sit in a skip.
Introduced In Series 2
Victor - a mouse who speaks in a thick Geordie accent and lives in a doll house.
Derek - An elderly Shar Pei with a Welsh accent. He sits next to a small Shar Pei puppy who does not speak.
Brian and Keith - two Staffordshire bull terriers who are brothers.
Muriel and Catherine - a pair of elderly bats who roost in a belfry.
Behzad - an Arabian horse who has several different jobs, including a police horse, a member of the Queen's Guard at Buckingham Palace, and a faux Christmas reindeer.
American Version
In June 2007 CBS planned to broadcast seven episodes of an Americanized version of the show featuring ordinary American people providing the voices in the same vein as the British original. The series was titled Creature Comforts and was released on June 4th 2007-June 18th 2007 only 3 episodes were broadcast due to low ratings.
Episode list
Original short (2003)
Season 1 (2003)
About 9 minutes each.
The Circus
Pets at the Vets
Working Animals
The Sea
The Garden
Feeding Time
The Beach
The Pet Shop
What's It All About?
Being A Bird
Is Anyone Out There?
Cats or Dogs?
Merry Christmas
Season 2 (2004-5)
About 9 minutes each, except the Christmas episode, which is 22 minutes long.
Beast in Show
The Brood
Pet Hates
Impressions
Animals in the 'Hood
Sport
Monarchy Business
Animal Magnetism
Merry Christmas Everybody! (extended episode)
Bed Time
Self Image
Communication
Safari Park
Season 3 (American series)
Pets at the Vet / Secrets & Lies / Animal Magnetism
Self Image / Wingin' It/Art
Winter / The Zoo
Growing Up / Fears & Phobias / Something's Afoot
Communication / Feeding Time / Parrot Tongue Twister
Working / For the Birds / Love, Animal Style
Great Outdoors / Pet Peeves / Talent Show
Season 4 (2021)
About 9 minutes each.
Spin-offs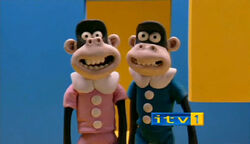 Heat Electric TV adverts

These adverts ran during the early 1990s and are perhaps the best-known version of Creature Comforts.

ITV1 channel idents

To tie in with ITV1 showing Creature Comforts, Aardman produced two ident animations for the channel, one with the slugs, the other with monkeys. They can be found on the Region 2 version of the Season 1, Part 1 DVD.

UK National TV Awards insert: Special piece for the National TV Awards featuring Trixie and Captain Cuddlepuss, and the baby robins.
Countryside Code advert: Characters including the seagulls from the series talk about the countryside.
"Creature Discomforts" TV adverts: eight 30-second advertisements for the British disability charity Leonard Cheshire.
"When I Met Attenborough" inserts for Attenborough at 90 retrospective: Three 45-second shorts featuring animals with whom the wildlife presenter David Attenborough had famous encounters. They can be found on the Creature Comforts YouTube channel.

Penguins
Lyrebird
Gorillas
Community content is available under
CC-BY-SA
unless otherwise noted.