Chicken Run 2
Directed by:
Sam Fell
Produced by:
Paul Kewley
Peter Lord
Nick Park
Written by:
Sam Fell
Screenplay by:
Jamie Thomasn
John O'Farrell
Story by:
Sam Fell
Based on:
Larry Franco
Starring:
TBC
Music by:
David Newman
Cinematography:
Joe Sichta
Edited by:
Sim-Evan Jones
Production

company:

Aardman Animations
Distributed by:
StudioCanal
Pathe
DreamWorks Animation LLC (USA)
Release date:
TBC
Running time:
TBC
Country:
United Kingdom
Language:
English
Budget:
TBC
Box office:
TBC

---

Full Credits
Trivia
Home Video
Awards
Soundtrack
Characters
Merchandise
Locations
Chronology
Preceded by
"Jurassic Park 3"
Followed by
"TBA"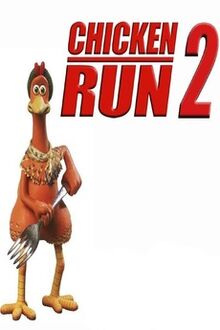 Chicken Run 2 is a 2022 upcoming sequel to Aardman's highest grossing film classic from 2000. It will be distributed this time by DreamWorks Picture who have distributed Aardman's feature films since 2004,s Shark tale and Pathe who distributed the first movie from 2000 in Europe. Unlike the first movie, DreamWorks will not return to distribute the sequel due to both companies ending their partnership following the release of Flushed Away (2006). The film is being postponed until 2022 due to the new Wallace And Gromit feature film Holiday From Home being released in August 2021, It will be released by EuropaCorp instead of Studiocanal netflix
Having pulled off a death-defying escape from Tweedy's farm, Ginger has finally found her dream – a peaceful island sanctuary for the whole flock, far from the dangers of the human world. When she and Rocky hatch a little girl called Molly, Ginger's happy ending seems complete. But back on the mainland the whole of chicken-kind faces a new and terrible threat. Mr and Mrs Tweedy plot revenge on the chickens. For Ginger and her team, even if it means putting their own hard-won freedom at risk – this time, they're breaking in!
The film was announced on April 26, 2018 and officially began production on October 16 2019. Chris Jarvis and Dave Benson Phillips gave voices for the new characters after voicing characters in the 1999 british children's show Dream Street
April 4, 2022
While not officially announced, the following cast members are very likely to return to the sequel:
Julia Sawalha as Ginger
Mel Gibson as Rocky Rhodes
Benjamin Whitrow as Fowler
Timothy Spall as Nick
Kari Wahlgren as Molly
Miranda Richardson as Mrs Melisha Tweedy
Benjamin Whitrow as Eillot
Phil Daniels as Fetcher
Jane Horrocks as Babs
Imelda Staunton as Bunty
Lynn Ferguson as Mac
Mara Wilson as Kate the Chick
Chris Jarvis as Robin Ride
Dave Benson Phillips as Paul
Peter Kay as Mike
Maurice LaMarche As Buggy
Vigina Waston As Atta
Tony Anselmo as Zoc
Russi Taylor As Abby
Neil Fanning As Tuck
Tom Kenny As Robbie
Lynn Ferguson As Ketta
Tony Anselmo As Geo
Neil Fanning as Diego
Community content is available under
CC-BY-SA
unless otherwise noted.