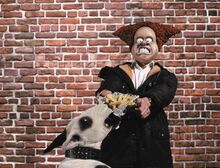 Angry Kid is a British 1-minute short live action and stop motion adult animated comedy television series created by Darren Walsh. who also provides the voice of the title character and produced by Aardman Animations for Series 1 and 2 and by Mr Morris Productions for Series 3 and 4. Unlike most Aardman productions, Angry Kid was not created using clay animation but a combination of pixilation using masks for facial expressions and stop motion puppetry. Series 3 onwards uses CGI for Angry Kid's head along with live action. Series 3 was released on July 3rd 2015 after an 8-year hiatus. Series 3 is produced by Mr Morris Productions with episodes being aired on Angry Kid's official YouTube page with a new episode being uploaded every 3 weeks. On 2019, the series continued with Series 4 on YouTube, with 9 episodes uploaded daily continuously.
Characters
Production
Series 1 and 2 were produced by Aardman Animations. Series 3 and 4 are distributed by Aardman Animations and produced by Mr Morris Productions.
Series 1
Car Sick
Bored
Goalie
Blood Juice
Road Hog
Stinky
Headlights
Cotton Bud
Sex Education
Bone
Swearing
Queen's Speech
Chips
Superhero
Love Bite
Buzz Off
Backwards Writing
Hoax Call
Wee Wee
Speed
Sneeze
Horror
Kidnap
Series 2
Wanker
Catapult
I Spy
Sex Call
Strange Trip
Card Trick
Philosophical
Puerile
Curious
Russian Roulette
Tourette's
Piss
Swollen
Bad News
Cake
Chemistry
Dustbin
Dolly
Sofa Attack
Snail
Jackanory
Marathon Man
Road Safety
Birdy
What Are You Like
Series 3
Interview
Boyhood
Puberty
Bumfluff
Emo
Mind Control
Stephen
Workout
Fishy Factzz
Series 4
Politics
Callout
Lil' Sis
Perfect Body
Fartburger
Offstep
Careers Advice
Mars
Sponsored Silence
Specials
Who Do I Think I Am
Handbags
Gridlock
Angry Kid's Dark Side
Merry Christmas Stocking Song
My Vloggy
Call Out!
Fish Factzz
Community content is available under
CC-BY-SA
unless otherwise noted.